I admit it, I tend to be hard to shop for. I have been told that I am actually impossible to shop for because I don't really want anything, at all. I admit, I want money, because everyone needs money, but I don't really want things like a new TV or a new game or things like that. So, I just played it cool when my wife surprised me with a Father's Day gift that is actually cool enough that I would want it. She got me a Bamix hand-held food processor or immersion blender. Yeah, it is one of those things that you literally put into a pot of something and turn it on and then it blends it into whatever you need. It is so cool that even Gordan Ramsay does a 20 something minute long presentation and demo on the product: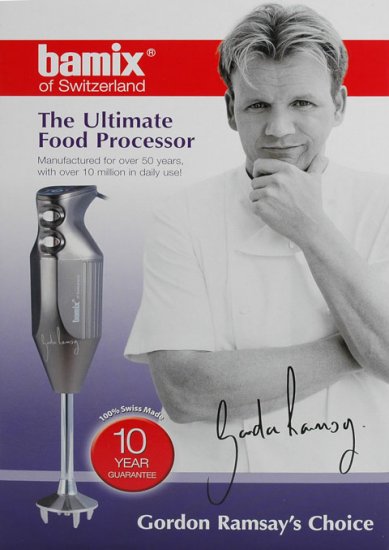 No, I didn't get the chrome one, I got one that is black and white. Still though, the device comes with all of the bells and whistles that it does in the demo and it is amazing. Last year, I purchased a Cuisinart version, which is small and about $20 and even has trouble mixing milk and peanut butter together; for my shake. This thing, eats through anything.
It first comes with three attachments: a whisk, which can turn cold heavy whipping cream into whipped cream with stiff peaks in about 30 seconds, a beater, which can mix brownies batter in about 15 seconds, and finally a mincer, which can turn a whole pot of chopped vegetables to a pureed soup within 2 minutes.
(before)
(after)
I understand that there is a cost difference between this Bamix and other blenders, but it is way worth it. Had I made this same soup with a normal blender, you would have to bring the blender to the pot and scoop a bit at a time, and make sure there is plenty of water, to properly blend and then dump that out into a separate container and mix the rest. Then you need to place it all back in the pot to reheat and get it back to where you need it to finish it. It would have taken me about 30 minutes, just to blend. With my new Bamix, I stick it in with a mincer attachment and let it go for 1 minute, chopping up everything big on low speed, then let it cool down for a minute. Then I went again on full speed and was very happy within a minute.
Now, is this awesome? Yes.
Would I recommend this? Yes.
Does everyone need this? Yes.
Done.